Welcome To www.Considering U.com
How do you find a competent therapist? Talk to your friends? Talk to an insurance company? Well here's a better way, talk to us. It's confidential, free and after listening to your concerns and questions, carefully, we will give you the names of three eminently qualified psychotherapists tailored to your needs, who accept your insurance, or are in your desired location and are qualified to help you and your family, now.
You don't have to scramble through an alphabet of qualifications and licensure. Need a family therapist? We have those. Someone who works with individuals on the Autism spectrum? We have those. Confused about who could help you or your family, we can.
www.Considering U.com is headed by a licensed mental health clinician with over 30 years of experience working with individuals and families. She can sort through what's going on and point you in the right direction.
We applaud you for making the courageous decision to make things better, now let us help you get there. www.Considering U.com: matching clients with therapists. We help you, so that you can help others.
We can also match qualified clinical supervisors with qualified or registered mental health interns.
To find a therapist, click on the Find a Therapist tab at the top of the home page. Then click on the Find a Psychotherapist link to open up the intake form, or you can just click
Find a Psychotherapist
to get strarted.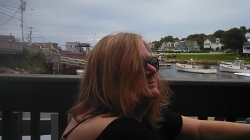 Laura Bloom, MSW, LCSW, has designed this web site to be a place for clients to find psychotherapists and for psychotherapists to find clients. She welcomes your comments and feedback and will be happy to respond to all inquiries and comments.